Injection Molding, Decoration, Ultra-Sonic Insertion and Mechanical Assembly of a PC/ABS Fan Filter Unit for the Computer Industry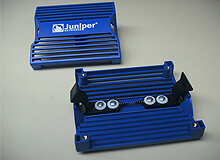 R&D Plastics provides full service to minimize part cost and response time in producing finished units rather than just "shoot & ship" molded parts only. With experience in a broad range of post-molding processes, parts can be molded and processed as part of a continuous manufacturing stream, and all within our facility. This PC/ABS unit features molded-in color, 4 U/S inserted threaded brass fasteners, with pad-printing and mechanical assembly of molded and purchased components.
The unit measures 3.5" x 4" x 1" and was molded on our 85 ton Toshiba electric machine. This project went smoothly from start to finish, with good coordination of moldmaker, molding and assembly.
Inspections of the molded part include dimensional and cosmetic checks, with the finished unit being inspected for verification of the printed features, the inserting and a functional check of the completed unit. This project is a good example of our ability to produce and coordinate the injection mold, the molded parts, and to manage all of the various post-molded operations and special packaging required for the application. For more information about this contract plastic injection molding project, see the table below, or contact us directly.
---
Highlights of this Plastic Injection Molding Project:
---
---
This Unit is used to incorporate a filter media and needs to be highly cosmetic, removable and replaceable without tools.
---
Precision Injection Molding Capabilities Applied/Processes
---
Primary:
Engineering - Tooling Design/Development for injection molding, along with subsequent post molding fixtures for ultra-sonic inserting, Pad-printing and mechanical assembly.
Injection Molding
---
Polycarbonate / ABS Alloy
---
Texture finish in the mold cavity
---
In process testing/inspection performed
---
Dimensional and cosmetic inspections, with visual checks of U/S insertion and functional checks of final assembly