Injection Molding of a PC/ABS Disk Drive Housing for the Computer Industry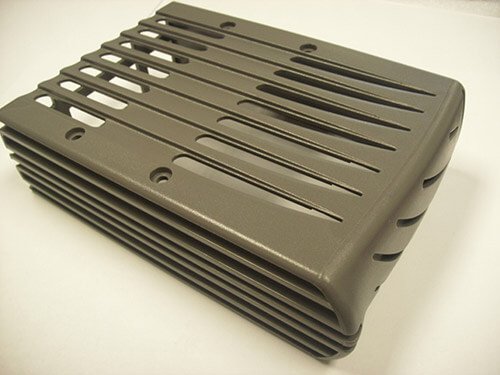 R&D Plastics provides contract plastic injection molding of complex components for a variety of industries. This PC/ABS housing is designed to enclose disk drives for the computer industry. The housing measures 7" x 5" x 2" and was molded on our 190 ton Toshiba machine. This project presented a unique challenge in both tooling design and molding. We produced this component using a mold having 4 external slides, an internal lifter AND reverse ejection. One of the keys for our success was good mold design and construction.
Dimensional inspections as well as verification of the surface finish, knitline integrity and color are also performed on this part. This project is an excellent example of our ability to produce complex molds that provide high yield rates of quality parts. For more information about this contract plastic injection molding project, see the table below, or contact us directly.
---
Highlights of this Contract Plastic Injection Molding Project:
---
---
This housing is used to protect and encase a computer disk drive.
---
Precision Injection Molding Capabilities Applied/Processes
---
Primary:
Engineering – Tooling Design/Development with multiple slides,
internal lifters and reverse ejection
Injection Molding
---
Equipment Used to Manufacture Part
---
Polycarbonate / ABS Alloy
---
In process testing/inspection performed
---
Dimensional inspections as well as cosmetic verification of surface finish and part color