Injection Molding of a Reinforced Nylon Component with Double-Lead Helix for the Medical Industry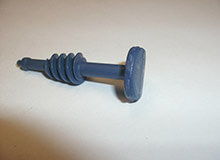 R&D Plastics provides precision injection molding of plastic components with complex geometries. For this project, we produced these double-lead helix components used for adjusting compression bands for our customer in the medical industry. We co-engineered the design of the tooling for the helix to account for the unique geometry of the piece and ensure that quality parts would be produced.
The overall part dimensions are 2" x 0.60" with tolerances as tight as ±0.004". The helix is made of glass reinforced nylon and produced on our 65 ton press. All parts must be maintained clean for later sterilization and assembly. The components are inspected for both cleanliness and straightness before being shipped to the customer. Our typical lead time on this part is four weeks. For more information about this precision injection molding project, see the table below, or contact us directly.
---
Highlights of this Precision Injection Molding Project:
---
---
This specialized component provides infinite adjustability for a medical compression band.
---
Precision Injection Molding Capabilities Applied/Processes
---
Product Design
Tooling Design
Injection Molding
---
Equipment Used to Manufacture Part
---
65 Ton All-Electric Toshiba Horizontal Press
---
2" long x 0.600" in diameter
---
Glass Fiber Reinforced Nylon
---
Parts are maintained "clean" for assembly and sterilization in HEPA booth.
---
In process testing/inspection performed
---
Check for straightness & cleanliness
---
Medical Component with Double-Lead Helix