Injection Molding of a Specialized POM Spinning Rotor for the Waste Management Industry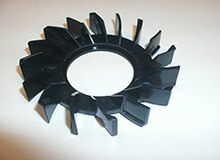 At R&D Plastics, we not only provide custom injection molding services, but we also offer in-depth consulting to customers regarding the design and manufacturability of their components. This spinning rotor was manufactured for the waste management industry. Our customer brought their design to us and although the design was very functional for its purpose, we were able to assist the customer in improving the design for tooling and for the injection molding process.
After the design revisions were complete, the new design was more robust, more easily manufactured, and cost less than the original design. The rotor is made of polyoxymethylene (POM) and is 3" in diameter by .5" tall. The spinning rotor is powered by pressurized water and sprays in a unique rectangular pattern required by our customer.
After molding, this part is tested for functionality as well as dimensional conformance. For more information about this custom injection molding project, see the table below, or contact us directly.
---
Highlights of this Custom Injection Molding Project:
---
---
This spinning rotor is powered only by the water forced through it and sprays
water in a unique rectangular pattern.
---
Injection Molding Capabilities Applied/Processes
---
Primary:
Injection Molding
---
Equipment Used to Manufacture Part
---
3 inches in diameter X 0.5" in height
---
In process testing/inspection performed
---
Molded parts typical leadtime of 4 weeks.