Overmolding and Sonic Welding of a Fillet Knife Handle for the Recreational Industry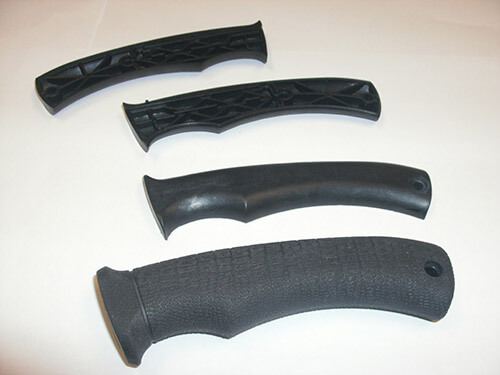 R&D Plastics produces custom overmolded plastic components, providing customers with economically priced parts that maintain an attractive cosmetic appearance and provide exceptional performance. This 5" long, 0.75" thick fillet knife handle was manufactured for our customer in the recreational products industry. The handle is made of a glass reinforced polypropylene core substrate with a Santoprene overmolded exterior.
We worked with our customer throughout the design, development, and material selection stages to ensure their design could be economically and consistently manufactured. The knife handle is designed for functionality and durability with mechanical interlocks in the polypropylene to capture the knife blade. After molding, the substrate handle halves are sonically welded together.
The parts are then overmolded, providing the customer with a complete handle that is ready to assemble to the blade. This handle is molded to tolerances of ±0.010" and tested for proper adhesion of the overmold to the substrate and the quality of the sonic weld.
This design provides a simple-to-assemble product, it utilizes mechanical locking as well as fusion of the overmolded elastomer to provide good retention of the materials. This highly cosmetic and functional overmolding also provides good ergonomics and tactile feel. For more information about this custom overmolded plastics project, see the table below, or contact us directly.
---
Highlights of this Custom Overmolded Plastics Project:
---
---
These knife handles are for recreational outdoor use.
---
Overmolding & Sonic Welding Capabilities Applied/Processes
---
Primary: Engineering
Product Development/Design
Material Selection
Injection Molding, Sonic Welding, Over-molding
---
Equipment Used to Manufacture Part
---
110 Ton All-Electric Toshiba
---
Glass Reinforced Polypropylene/Santoprene
---
Heavy Chemical Etch Textured
---
In process testing/inspection performed
---
Testing for adhesion of the over-mold to the substrate as well as functional fit check of the ultrasonically welded substrates
---
5 weeks typical production leadtime